International Conference on
"Drama in Education for Children and Adolescents at Risk"
In cooperation of
Academy for Music and Theater of Rostock & University of Rostock
---
Start of the conference documentation
Click here for the invitation letter for the conference publication.
These are the presentations of several speakers and workshop instructors. The provided documents are pdf-files. The list will soon be completed.
---
07. - 10. May 2009
PLEASE JOIN US at a conference designed to explore the use of PLAY, DRAMA and THEATRE in educating children and adolescents at risk. This conference is presented by the Academy of Music and Theater in Rostock in close collaboration with the Department of SPECIAL EDUCATION at the University of Rostock, starting on May 7th and ending on May 10th.
Theoretical perspective: concepts of developmental psychopathology, as they may help to explain how participation in play and drama serves to protect against combinations of biological and socio-cultural risks and enhance resilience.

We welcome practitioners and researchers representing the worlds of theater, education, special education psychology and social sciences to attend as well as inform us of their interest in the themes of this conference, their desire to participate and to submit papers. Special consideration will be given to those papers that are evidence based and help to elucidate the concepts and professional concepts involved.
Download the Agenda of the Conference (English version, pdf, 419KB)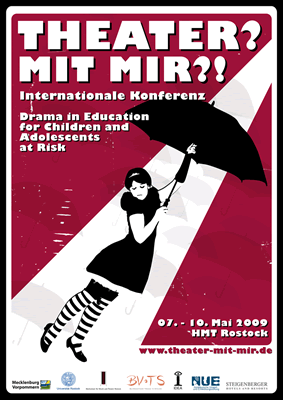 of the conference presentations and workshops you will find here.
If you are still looking for hotel rooms at reasonable prices we can offer you here special conditions.
This is how you find the way in Rostock.
Still got some questions? Feel free to use our contact form.
---
Under the patronage of
Henry Tesch - minister of education, science and culture




Supported by


German association for theatre in schools

&



International Drama/Theatre and Education Association